Not sure what size baseball bat you need? You've come to the right place. Here, we'll break down the different types of wood use for our bats and which hitter profiles fit best with each. We'll also cover the different parts of a bat, and, of course, the bat size chart with some helpful sizing tips.
We need to note that our quick-reference baseball bat size chart can help you select the appropriately sized bat for yourself (or for your Little Leaguer). Of course, the table below can only serve as a guideline to help you get close to a bat that may be appropriate. Much like professional baseball players, each batters' preferences, styles, and power greatly influence the type of bat that will work best.
With all that said, let's get to the breakdown, or click here to jump straight to the chart if you want to skip the tidal wave of information coming up next.
Type of Hitter Profiles
At Phoenix Bats, we're all about wood bats, and we've got three awesome types of wood in our arsenal: rock maple, northern white ash, and yellow birch. Our wood bat billets come from the top-notch mills in our area, so you know you're getting the absolute best cuts. Now, each wood type has its own special qualities that make it perfect for launching those epic home runs. We've put together a massive chart that breaks it all down for you. Let's go!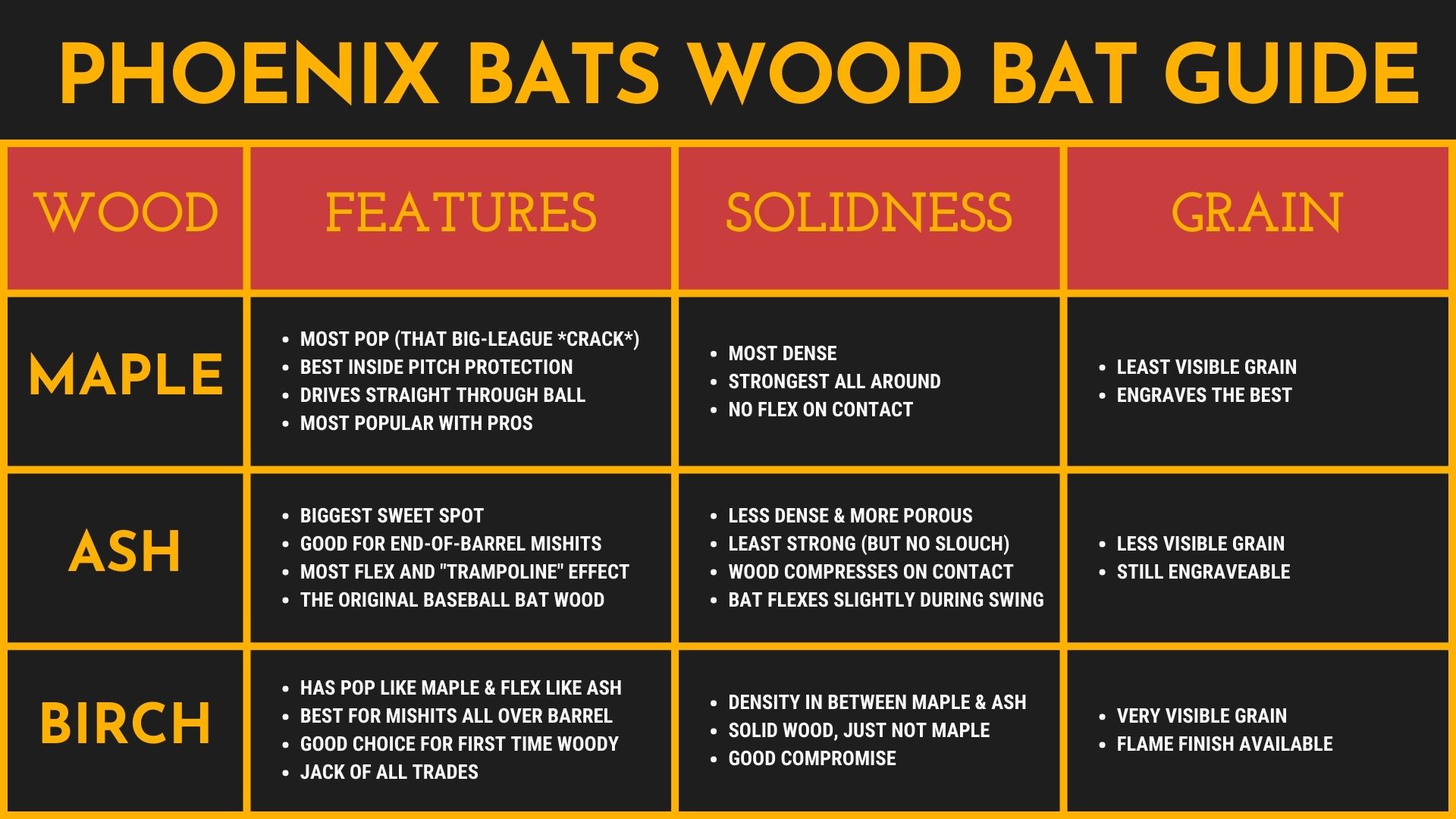 Measurables
Now that we've covered the ins and outs of a baseball bat, let's dig into finding the perfect fit for your swing. The length and weight of your bat depend a lot on your height and weight, but there's also room for personal preference.
Length
Baseball and softball bats vary in length, ranging from 25 inches for the peewee ballers to 34 inches or even longer for the more towering players among us. Most youth bats measure between 25 and 32 inches, while standard bats typically fall between 32 and 34 inches. For the most accurate sizing, consult the chart based on the batter's height and weight.
Drop weight
A bat's drop weight, indicated as a negative number, represents its weight in ounces minus its length in inches. A smaller number suggests a heavier bat. For example, a 32-inch bat with a -3 drop weighs more (29 ounces) than the same bat with a -4 drop (28 ounces). Here's a trickier example: a 32-inch bat with a -2 drop weighs the same as a 33-inch bat with a -3 drop (both weighing 30 ounces).
At Phoenix Bats, our adult wood bats have drop weights of -2, -2.5, or -3, while youth bats range from -5 to -8. Metal bats can have even lower drop weights, going as low as -13, but we don't focus much on those (except for our incredible Smoke metal BBCOR bat, which boasts a -3 drop and is a true marvel of engineering).
The choice of drop weight depends on factors like your size, strength, personal preference, and the type of wood used. Once you determine the right length, I recommend trying out bats with different drop weights—some heavier and some lighter—to get a feel for the differences.
Swing weight
A bat's swing weight refers to how the weight is distributed along its length. When it comes to baseball and softball bats, there are three swing weight categories:
Light-swinging: Ideal for younger or smaller hitters. These bats have more weight towards the middle of the barrel, closer to the hands. It requires less force to generate the right swing velocity.
Balanced: A versatile choice for all-around performance. These bats are lighter, easier to swing, and more durable than end-loaded bats. However, they provide slightly less power.
End-loaded: Perfect for power hitters. These bats have more weight concentrated at the end, delivering extra power upon contact. They result in longer hits. While the swing speed may be slightly slower due to the added weight, the increased momentum compensates for it.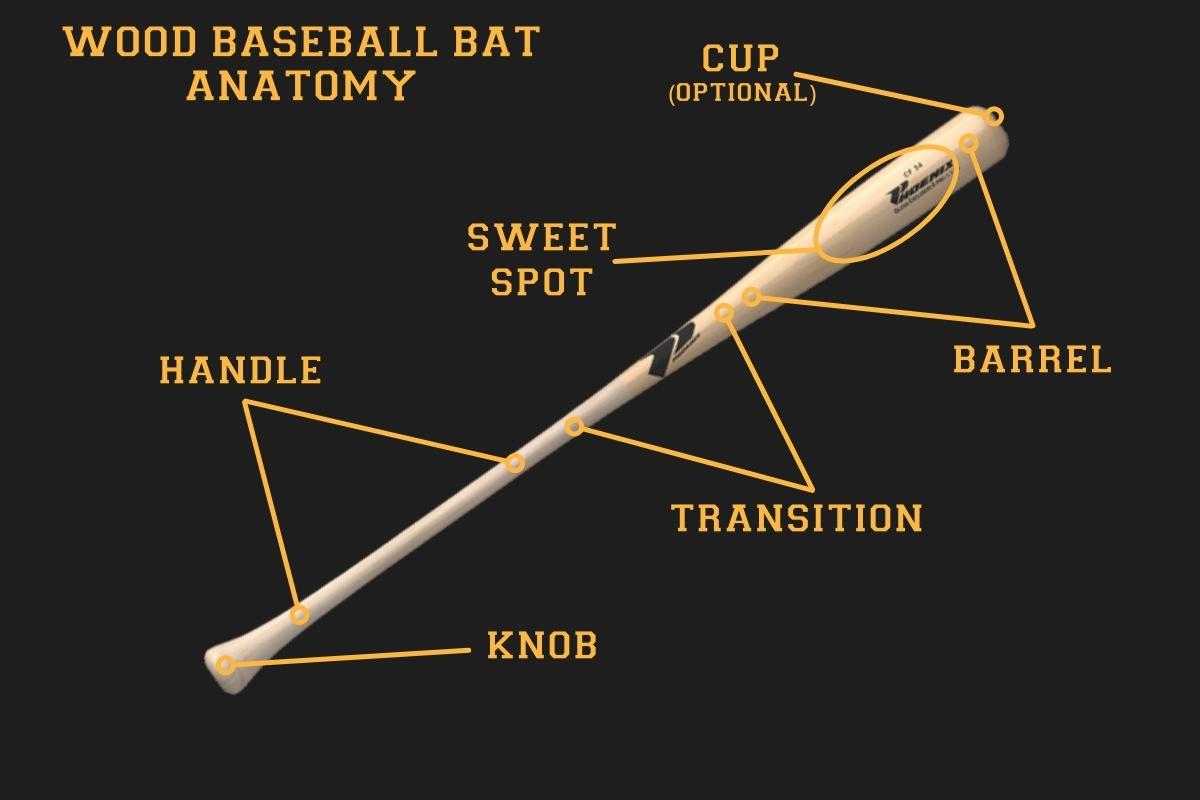 HOW TO MEASURE
No matter your age, league, or gender, measuring for a wood baseball or softball bat is a breeze. Let's go over a couple of methods:
Using a Tape Measure & Bat Size Chart
The most accurate way to determine the right bat size is by measuring the batter's height and weight. Once you have those measurements, refer to the bat size chart below to find the corresponding length. Remember, the chart is a helpful guide, but it's always a good idea to swing a few bats that are slightly above and below the recommended size to see what feels most comfortable.
Sizing Yourself Without Measuring
If you're out shopping and don't have a tape measure on hand, here are a couple of sizing tricks you can try:
Stand up straight (preferably wearing cleats) and let the bat rest straight down at your side with the knob facing upward. You should be able to comfortably grip the handle of the bat (just below the knob) without having to lean down.
Hold the bat flat against your chest, with the knob resting against your sternum and the barrel extending along your arm. From this position, you should be able to easily grasp the end of the barrel.
Sizing for Youth Bats
Sizing for young players is a bit different due to their unique proportions, but it's still a straightforward process. It's best to follow the chart for guidance. If your child is under 3 feet tall while wearing cleats, a 25-inch bat is a good starting point. For children over 3 feet tall, begin with a 26-inch bat and increase the bat length by 1 inch for every 4-5 inches of growth (e.g., move to a 27-inch bat when they reach about 3'5").
Alternatively, you can have your little slugger stand straight in cleats while holding the bat by their side. The handle should reach their hip but not go higher.
USABat and BBCOR Rules & Regulations Wood Bat Rules
All of our wood bats are exquisite, single-piece craftsmanship, and they comply with all Little League and USA Baseball regulations, regardless of whether they bear the USABat marking. Our wood baseball and softball bats are approved for play at all levels, including Little League, travel ball, high school, college, and even professional baseball.
Metal Bat Rules
Our Smoke metal bat is BBCOR approved and proudly displays the "BBCOR CERTIFIED .50" stamp. It is suitable for use in travel ball, high school, and collegiate leagues. This two-piece aluminum/composite hybrid bat features an oversized 2⅝-inch barrel and a -3 drop weight. It is available in lengths of 32, 33, or 34 inches.
Without Further Ado… we present the Phoenix Bats Size Chart

Please Note: This table should be used as a general reference/recommendation. We realize each player is different and is of a different skill level. If swinging a metal bat, we recommend the same length wood bat.
For additional help finding the right bat, check out these resources: