Every baseball player's dream is to end up in the Baseball Hall of Fame in Cooperstown, New York. Personally, that was always my goal growing up; and a few years ago, this dream became a reality—just not how I initially envisioned.
I first visited Cooperstown and the Baseball Hall of Fame as a kid in the mid-90s. I remember many things from that trip: the smell of Doubleday Field; the wood bat shavings from a live demonstration; the different baseball shops along the main street running through town; and walking through the hall of plaques within the museum itself.
Naturally, it inspired me to strive to have my own plaque in there one day. This was never in my future, though. The physical gifts professional players possess far exceed anything I was ever capable of.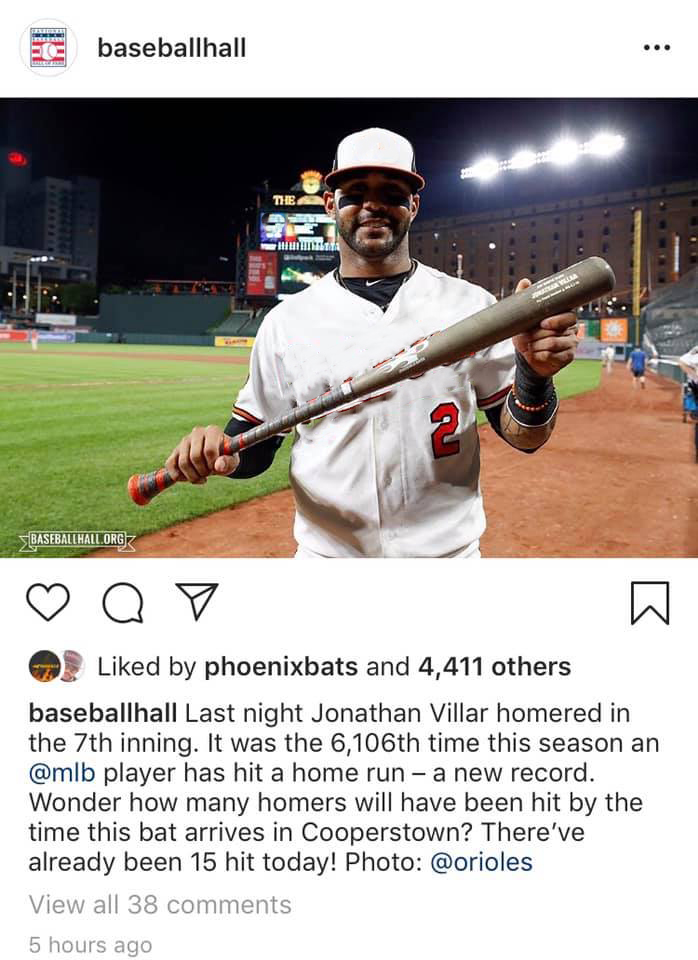 However, on a crisp September night in 2019, the dream was fulfilled when one of our Phoenix Wood Baseball Bats, used by then Baltimore outfielder Jonathan Villar, was used to hit the 6,106th home run of the 2019 season—setting a new record for total home runs collectively in the Big Leagues. Unfortunately, I did not get to watch this historic moment live. Ironically, I fell asleep early that evening on our couch, but woke up around midnight to multiple notifications on my phone of friends and family asking if that was truly our baseball bat. And it was! To top it off, I immediately saw where the bat was heading—to the glory land known as The Baseball Hall of Fame.
Much to my surprise, I finally made it!
The Dream Is Alive and Well
I never grew up dreaming of earning a living making wood baseball, softball and replica vintage bats. But, as they say, I am living the dream! It's a great honor and privilege to play a small part in many players' development and careers, from little league to The Show. I had always wanted to revisit Cooperstown with my family one day, and this fateful night was the push that I needed.
Obviously, with an interesting couple years from 2020 to 2021, it was difficult to travel much, and most of our focus was on our wood bat business. However, in July 2022, I was able to take my family to the mecca of baseball to see our custom wood baseball bat, the model JV2—a bat that we designed and made from scratch and was now proudly on display in the Baseball Hall of Fame.
The more than 9-hour drive from Columbus, Ohio to Cooperstown felt like it took a month, due to my excitement—just like when I was in little league. Once we reached Cooperstown, there was no other first stop than the Hall of Fame itself.
Upon entering the museum, I was able to pinpoint where our baseball bat was on display—the last and final floor we would be going to! I thought we were rounding third when we walked in, but my family insisted we take our time through the museum. I'm glad we did.
The rich history of baseball in this building is hard to describe unless you've been there in person. At times, for someone who has played since the age of 5, it was overwhelming. It was to the point I almost forgot the entire reason we were there. Almost…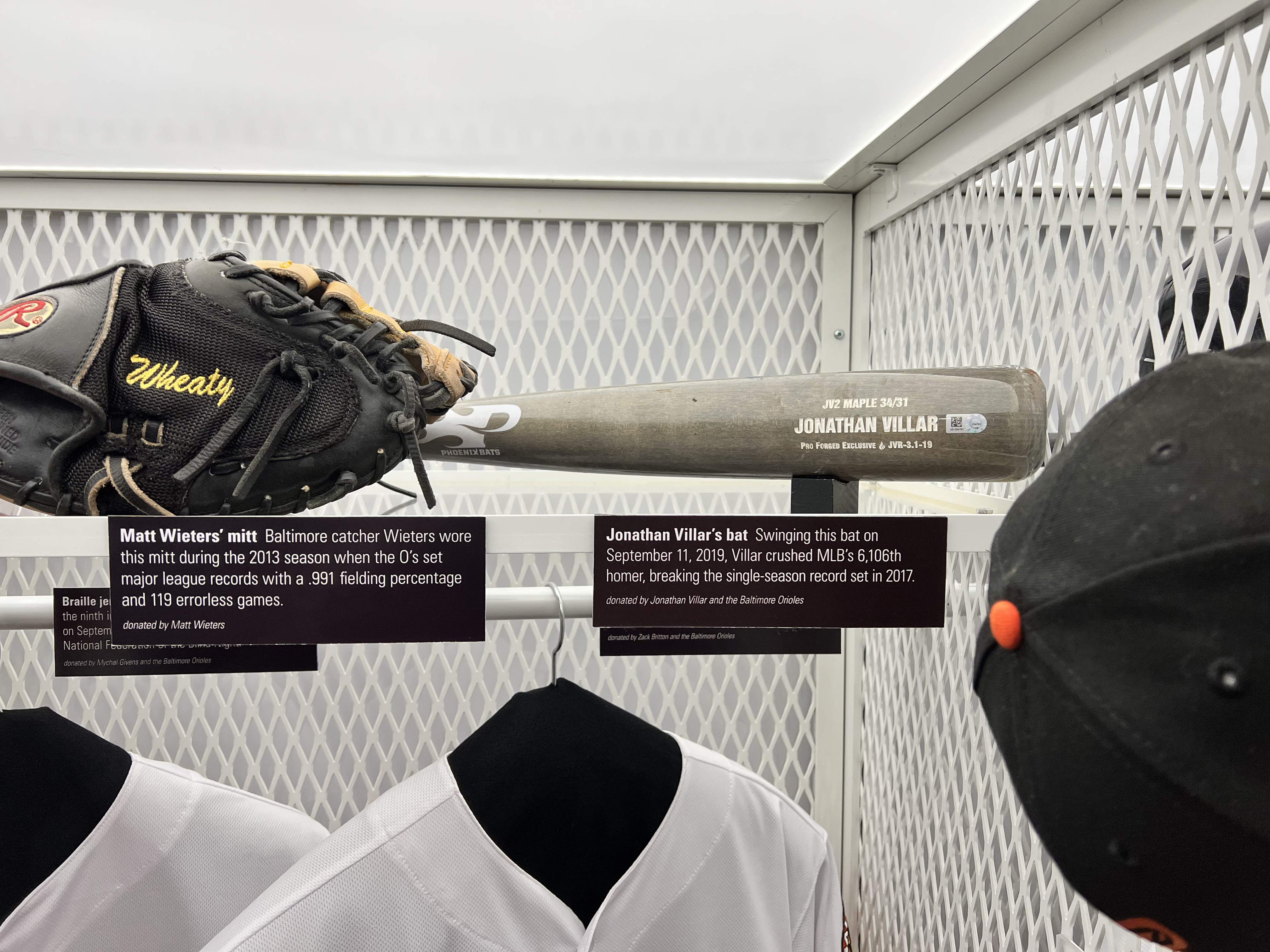 That's Our Bat!
I turned the corner, and there it was: our bat—just as I remembered it when we shipped it off to Jonathan Villar, but with a few more ball marks. As I stood there and admired it for what my family told me was an eternity, I finally snapped out of it and realized I made it. You couldn't wipe the smile off of my face. It looked like I had just hit a bottom-of-the-9th grand slam in game 7 to win the World Series.
After multiple pictures, and reminiscing about all the great things I've been a part of being in this business for over 20 years, we finally ventured down the hallway and finished our visit. For day one that is, because we came back the next two days as well, because there is so much to see.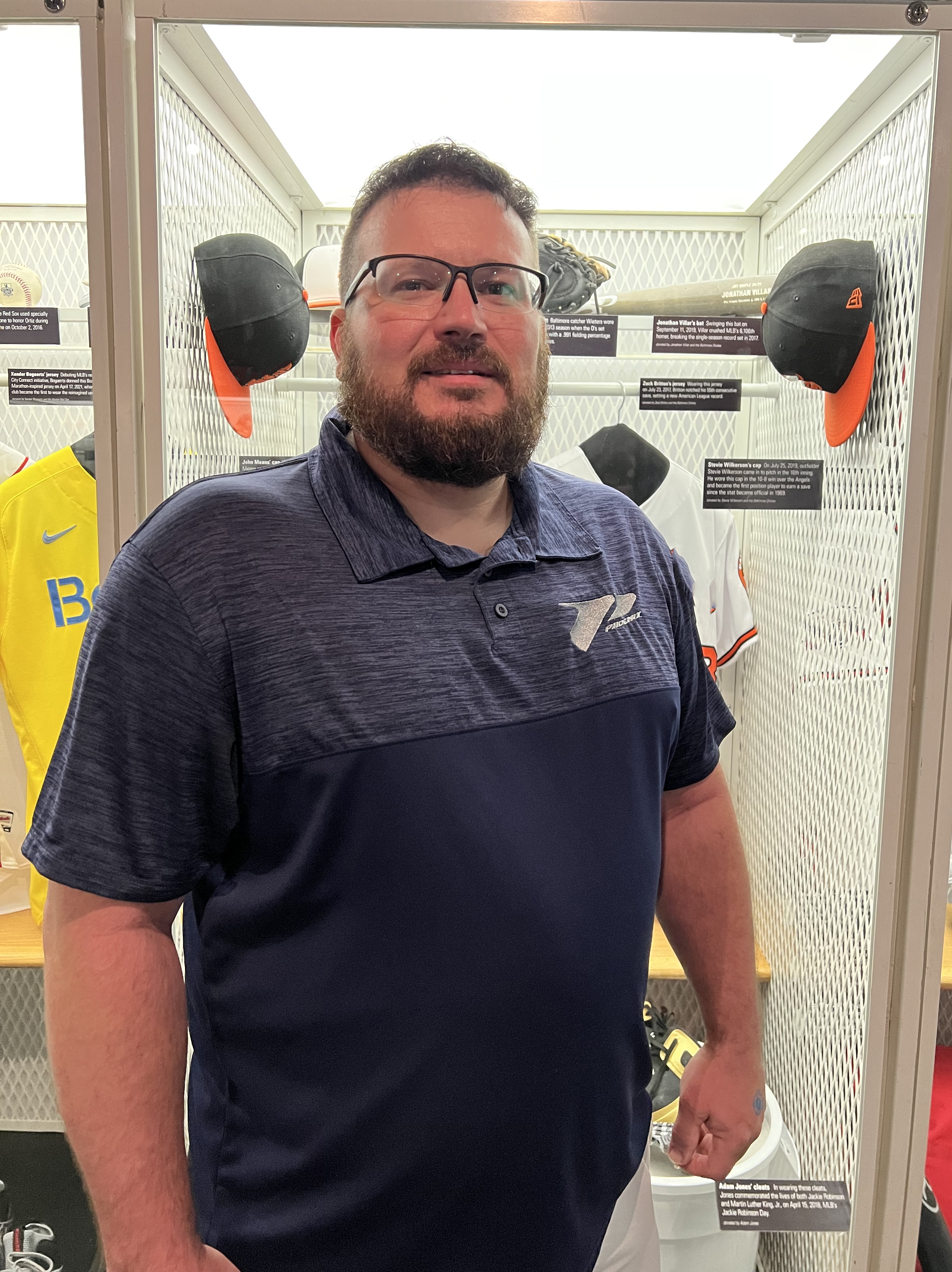 Before leaving the Baseball Hall of Fame and Museum, I stopped to speak with their archives department. Turns out, this was only one of several bats we have had in the Hall of Fame! Guess we should have made this trip several times over the years!
Stepping back and reflecting, this was a trip to remember and an amazing accomplishment to officially be in the Baseball Hall of Fame. Truly a dream come true.
However, for all the wood baseball, softball, and custom wood bats we've produced in my time at Phoenix Bats, it brings me just as much satisfaction seeing our social media tagged with proud parents posting their little-leaguers first home run, or their high school senior at a showcase getting an offer, and even our vintage base ball players continuing with their dreams of playing baseball. Those moments are what all of this is really about.
As they said in the movie Field of Dreams: Baseball has marked the time. This field, this game—it's part of our past. It reminds us of all that once was good, and it could be again.
Thank you to everyone who has and are a part of #TeamPhoenix in making this Midwest country boy's dream come true.