Forget metal. As we've covered at length before, nothing quite compares to swinging a wood baseball bat. The balance and weight—owed to the wood's composition and density (and our superior craftsmanship)—can up your hitting game to new levels.
A well-fitted wood bat encourages sound swing mechanics, giving wood hitters more natural power. What's more, training with those solid swing mechanics translates back to swinging with a metal bat.
Whether you're looking to train with a wood bat, or you're in a wood-bat league—perhaps even the Big Leagues—we've got the perfect wood bat just for you… in 3 different types of wood (and some crazy customization options, too.)
"3 types of wood? That's a lot!" you might exclaim. Well, don't get overwhelmed. We're here to break it all down for you.
What's Wood Got To Do With It?
Like we said, Phoenix Bats uses 3 different species of wood on our baseball and softball bats:
rock maple (aka hard maple or sugar maple)

white ash (aka American ash)

yellow birch (aka golden birch or swamp birch
Each of the 3 wood species has unique properties that lend themselves to crushing bombs in their own way. On top of that, we have the best wood from the best mills available. Pair that with our hyper-precise industrial lathe, and you get a solid-wood work of art—that's capable of going yard all day long.
Breaking It Down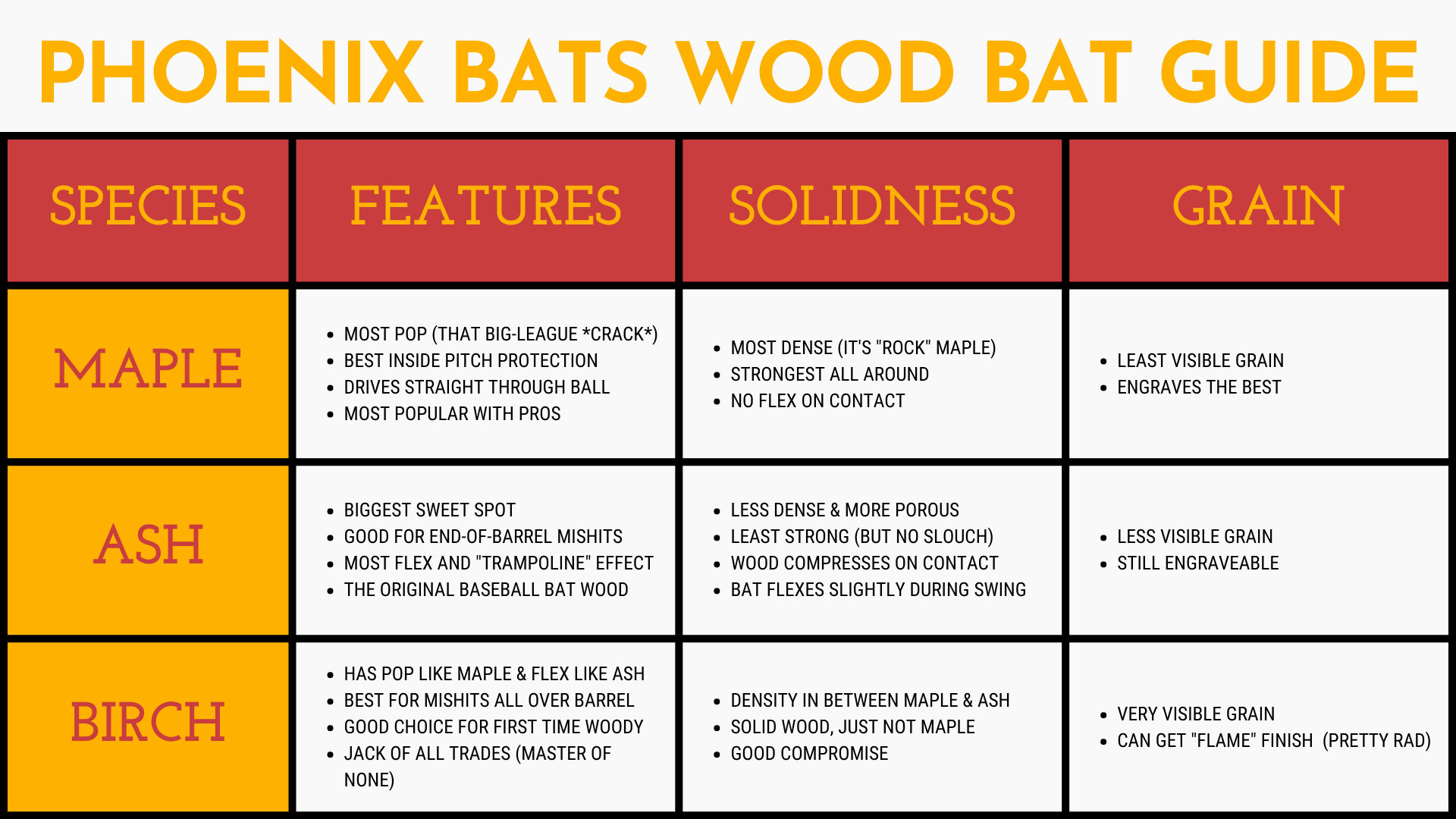 Now that you've got a decent understanding of the different types of wood we use, let's go over how each type of wood fits different batter sizes and hitting profiles. Some batters like their bats solid and heavy; some like them lighter and with some flex. There's something for everyone, truly.
Ready to learn? Yes, you're ready.
Maple Bats
Maple is the most dense and solid wood we use for our baseball and softball bats, replacing hickory wood in the 90s as the heavy-bat du jour. Maple bats are popular with pro players and heavy-hitters, who generally have the muscle mass and solid mechanics to wield such a powerful bat. The maple bat also gives you that signature Big League *CRACK* we all know and love.
Hitter profile

Strong power hitters looking to crush through the ball and crack one deep center

Hitters looking for inside pitch protection, since maple bats fare better at taking mishits down the barrel.

Beefier high school and college athletes looking to train with hefty wood

Pros

Maple's hardness and tight grain give you extra power, adding 10–15 feet to that moonshot you just fired off

The solid barrel drives straight through the ball; less flex means more energy transferred to the ball

Light grain makes for best engraving and coloring

Cons

A bit heavy for smaller players, who will want to build some strength before trying maple. Practicing with an overweight bat will lead to bad form and even injury.

Smallest sweet spot compared to other wood bats

Strong but rigid. Some maple bats (not Phoenix bats) are more prone to breaking and splintering*

which is due to poor quality wood and bad swing mechanics
Ash Bats
The OG wood for baseball bats since the game's inception, Ash is a porous, lightweight wood. The porous construction creates a "trampoline effect," where the bat compresses around the ball, then shoots back out. Ash bats also flex slightly while swinging, creating more snap across the plate.
Hitter profile

Smaller contact hitters looking for a little help from the wood

Younger players wanting to train with wood

Hitter looking for outside pitch protection, where ash bats handle mishits near the end of the barrel

Pros

Flex and trampoline effect give you added power on contact

Biggest sweet spot of all wood bat types

Light weight means faster bat speed

Cons

Not as hard as maple or birch, so some distance is lost

Only flexes if contact made on "face grain" (not the "stacked" grain running vertically long the bat)

Prone to breaking on inside pitches when contact is made near the handle
Birch Bats
For those looking for the best of both worlds, birch bats give us a happy medium between the rock-hard maple bat and elastic ash bat. A relative newcomer to the game, birch bats became popular in the 90s. Birch is denser than ash but less dense than maple, providing a little more power. But birch also has a slight trampoline effect that gives the ball some extra pop, too.
Hitter profile

Mid-size gap hitters (the in-betweeners—just like the birch!)

First-time wood-bat swingers (not youth, though)

Hitters looking for decent inside and outside pitch protection

Pros

Jack of all trades, with some pop like maple and flex like ash

Great training bat for practicing good swing mechanics

Can "hide" poor form to some degree

Cons

Master of none, with less pop than maple and flex than ash

Needs some practice hits to "firm up" the wood

Too weighty for smaller hitters who like a big barrel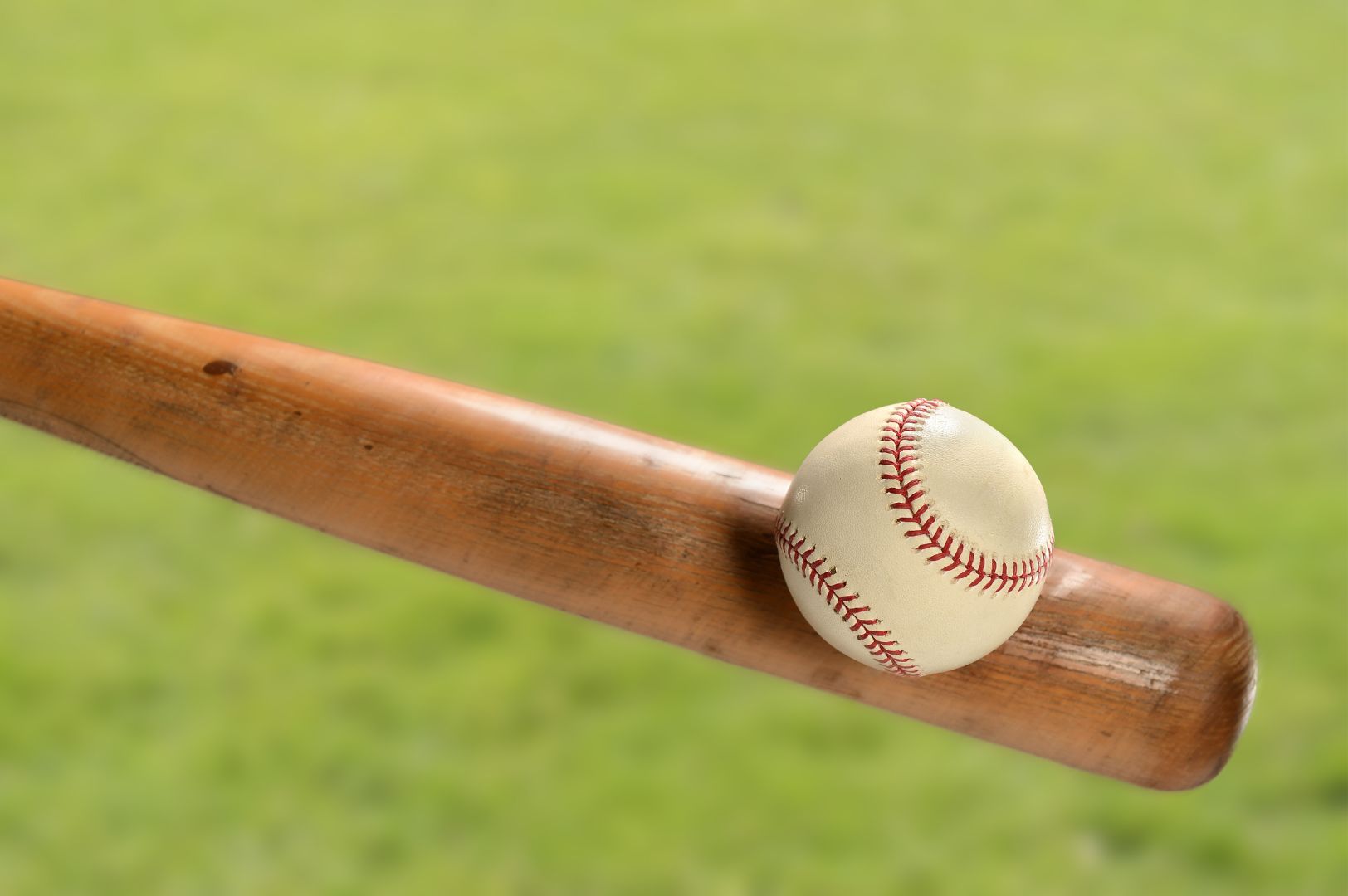 Phoenix Bats Has the Right Wood Bat for You
So now we've broken down all the types of wood and what makes each of them so great, all that's left is for you to find your perfect bat. Whether you're a power hitter, a contact hitter, or anywhere in between, Phoenix Bats has something right for you.
Check out our bat-fitting page here to get started on your journey towards owning the best wood baseball bat on the planet: https://phoenixbats.com/bat-size-chart
Looking to learn a little more? We've compiled some relevant blogs here, just for you.