Many of us have been affected by cancer—just like many of you. We've lost friends and loved ones, and we continue to support those of us still fighting the good fight to beat this immeasurably horrible disease.
But we at Phoenix Bats grew sick and tired of not doing enough, so we decided to leverage our business to do something meaningful. We wanted to both honor those lost to cancer and those still fighting it and to support ongoing cancer research. Thus, we introduced the Beat Cancer Honor Bat.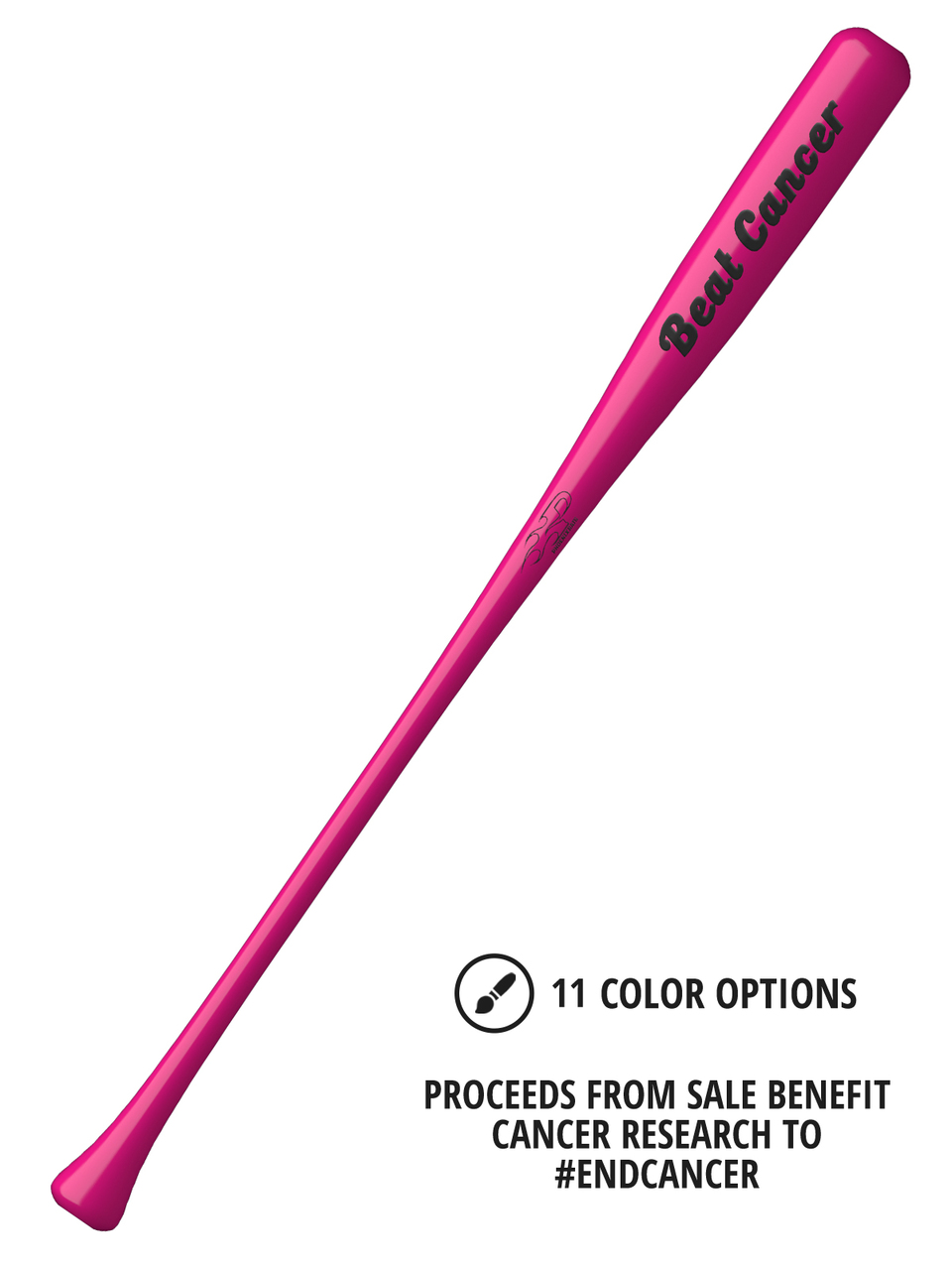 Made from bats culled from production, our Beat Cancer Honor Bats send a message: they are imperfect as a reminder that life itself is the same. They also help fund a great cause.
Through our charity partner, Pelotonia,100% of the proceeds of every bat sold go towards funding cancer research at The Ohio State University Comprehensive Cancer Center: James Cancer Hospital and Solove Research Institute. You can also choose to donate any amount in addition to the purchase price of your bat, and 100% of your donation will go to the same cause.
JOIN OUR FIGHT AGAINST CANCER
When you purchase a Beat Cancer Honor Bats, you're making you and your loved one's days a little brighter, and you're helping millions more in their fight. Beat Cancer Honor bats are available in 10 colors representing various types of cancer:
Pink: breast cancer

Blue: prostate cancer

Green: liver cancer

Orange: leukemia; kidney cancer

Light Blue: ovarian cancer

Navy Blue: colon cancer

Grey: brain cancer

Black: skin cancer

Burgundy (Cherry): multiple myeloma; head & neck cancer

Red: blood cancer
We engrave "Beat Cancer" on the barrel face and a message from Phoenix Bats on the back:
This bat lacks perfection. It's purposeful. Life isn't perfect.

We hope this bat serves as a rally stick for your journey.

To Cancer: we're ready for the fight. We will beat you.
We also engrave 1 line of text of your choice on the handle—up to 35 characters—at no extra cost.
Our loved ones mean the world to each of us as yours mean the same to you. We make these bats to hold in memory those lost, to honor those still fighting, to support a most important cause, and we very much hope to bring a smile to you and your loved ones when you need it most. Together we will support each other, and together we will make a difference in our fight against cancer.
Order your Beat Cancer Honor Bat today. Standard production time is 3 weeks, but 5-business-day rush orders are available. We thank you from the bottom of our hearts for supporting this cause.